"I will also gather all nations, and will bring them down into the valley of Jehoshaphat, and will plead with them there for my people and for my heritage Israel, whom they have scattered among the nations, and parted my land." Joel 3:2
RAMALLAH, West Bank (CBS/AP) — President Obama called for a free and independent Palestinian state while visiting the West Bank with Palestinian Authority leader Mahmoud Abbas Thursday.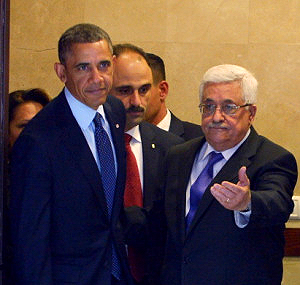 President Barack Obama says Palestinians deserve an independent and sovereign state and an end to occupation by Israel. (MANDEL NGAN/AFP/Getty Images)
"Palestinians deserve a state of their own," Obama said during a joint news conferencewith Abbas in Ramallah.
Obama believes that a two-state solution between Israel and the Palestinians is possible.
"If we can get direct negotiations started again I believe that the shape of a potential deal is there," Obama said.
Obama said he told Israeli officials that the White House does not consider settlement activity in the West Bank to be appropriate or constructive. He says Palestinians should not have to confront the daily indignities that come with occupation.
A new poll finds 36 percent of the 500 Israelis who were surveyed believe the president is more pro-Palestinian than pro-Israel, The Jerusalem Post reports. By comparison, 26 percent said Obama was more pro-Israel than pro-Palestinian.